About Victoria, BC Real Estate
About This Website
This website was established as a free resource to help educate anyone who has an interest in the Victoria, BC Real Estate market. The content has been gathered from many veteran Victoria, BC Realtors® and other real estate professionals and laypersons
We hope you have finf the information useful. If you feel anything is missing or have any further questions, please use the contact form to leave us a note and one of the local real estate experts will be in touch to help you out.
Essentials Fact about Victoria, BC Housing and Neighbourhoods
Victoria has been British Columbia's capital city since 1868. The Capital Regional District (CRD), composed of thirteen distinct municipalities is nestly on the southern tip of Vancouver Island. The municipalities that comprise the CRD include Victoria, Oak Bay, Esquimalt, North Saanich and the Saanich peninsula, View Royal, Langford, Colwood, Metchosin, Sooke, Sidney, Highlands and Slatspring Island.
The Greater Victoria city population was reported at around 80,017, counting only the real estate within the greater Victoria boundary. The CRD all together has a population of around 351,000 making it the 15th largest metropolitan center within Canada. Real estate is varied with a mixture of urban condominiums (condos), apartments and rental units, many residential houses, duplexes and in the outlying areas, many acreages with single family dwellings or farm operations.
Vancouver Island is less than 100 kms from Vancouver, British Columbia's largest city, and is serviced by multiple ferry routes, airplane, seaplane, and a special Victoria passenger only ferry (currently not runing due to the covid pandemic). Via the Blackball ferry line to Port Angeles, WA, the greater victoria area offer easy access to Seattle, anacortis and other US destinations. The Victoria Airport in North Saanich offers multiple daily international flights to the US and other destinations.
Once described as a place for the newly-wed or nearly-dead, Victoria is now a very demographically balanced city with many real estate choices ranging from first time home buyer options and student accomodations to some of the most esquisite mansions in all of Canada. A recent real estate listing in Metchosin, the Swanwick Ranch, was listed in early 2021 for a whopping $14.1 million. Conversely, starter homes on lots are available in the outlying municipalities from low $200,000's. in 2021's mortgate rates, these are affordable to almost anyone.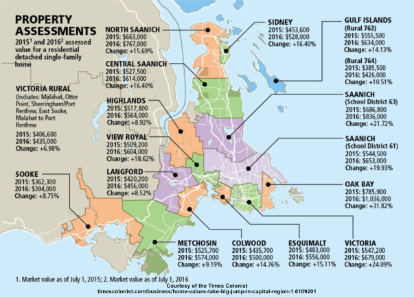 Latest Statistics - Victoria, BC Real Estate
The greater Victoria Real Estate Board (VREB) uses the Multiple Listing Service (MLS) to compile reports on many statistics about homes and realtors. In March 2021, a total of 1,173 properties sold in the Victoria Real Estate Board region. This figure represents a 92.9 per cent increase over the same period the prior year and 35 per cent more than February, 2021. Sales of condominiums were also up 111.8 per cent from March 2020 with 377 units sold. Sales of single family homes were up 88.2 per cent from last march with over 574 real estate transations in that category alone. We have reprinted some of these on our about Real Estate Market Report pages.