Essential Considerations
How to Select a REALTOR® in Victoria, BC
This website is a free resource to help educate members of the public to educate themselves about what they may wish to consider when selecting an agent. Any decision to select a specific real estate agent (also called a "Realtor") is a highly personalized choice and we urge consideration of a multitude of factors within the Victoria, BC Real Estate market. Please consider this in the context of supplemental information when contemplating buying or selling a home in the Southern Vancouver Island housing market.
WHAT IS A REALTOR?
A Realtor or "Real Estate Agent" is a highly trained and licensed professional to help people buy, sell, and sometimes rent real estate. They are ultimately responsible for constructing and executing the real estate contract by bringing buyers and sellers together and are paid a commission for their services. This is usually a percentage of the property transaction price. Real estate agents are also commonly called Real Estate Associates, Brokers, Real Estate Salespeople or just plain Realtors. There are subtle differences between the semantics in common usage for some of these terms and can vary from region to region. The term REALTOR® is a registered trademark of the Canadian Real Estate Association and when used on this website, reflects their definition.
Realtors are committed to upholding strict professional ethics as set forth by multiple boards and associations as well as legislation in some cases. They are also mandated by their professional organizations and licensors to uphold certain levels of professional conduct. For the Victoria, BC real estate market, there are multiple applicable associations and professional groups. A Realtor upholds an accepted standard of conduct set for real estate practitioners and their peers. They are also expected to be highly knowledgeable about developments in the real estate market and many possess specialized and localized areas of expertise. Realtors are full time professionals who immerse themselves into the real estate markets they serve. A Realtor should be knowledgeable about current and historic real estate trends, be able to compare prices based on multiple factors, understand neighborhood (micro) trends in real estate, know the overall housing market conditions and much more.
Most realtors work for a Real Estate Broker (examples include Coldwell Banker, Century 21 and more) and have access to the Victoria Real Estate Board's Multiple Listing Service®, also referred to as MLS®. This system allows a realtor to search all listings in an area rather than having to manually search each real estate broker's listings.
DO I NEED A REALTOR?
Some people have successfully bought or sold real estate without the use of a realtor. While this is possible, it is a very complicated process and there are many potential points of failure for any layperson who tries to go this route. There are risks that a licensed professional is trained to navigate in your best interests. Still, any individual is legally able to buy or sell real estate on their own behalf without the benefit of a realtor. Non-licensed persons are NOT legally allowed to aid another person buy or sell real estate and risk legal repercussions if they attempt to do so.
While a realtor is not 100% essential, the consensus amongst most people is that using a realtor will greatly increase your chances of creating a successful real estate deal.
HOW DO REALTORS GET PAID?
Licensed real estate agents get paid by commission, meaning they receive a percentage of the sale price of a real estate transaction upon successful execution of a contract. The commission is taken from the sellers side so buyers do not incur any additional fees for the purchase of their property. The commission is split between the buyer's agent and the seller's agent. Since both agents work on a commission basis, there is no risk to home buyers to pursue the route of using a Realtor to negotiate a deal. An Agent will not cost you anything unless a satisfactory set of terms and subsequent real estate transaction is completed, at which point the agents will get paid a commission.
Real estate commission rates are generally charged on a graduated commission basis, as is BC's property transfer tax. The rates are calculated on the transaction value and generally ranges between 3% to 7% for the first $100,000 of a property's price and between 1% to 2% for the remaining total. The commission rates vary from region to region in British Columbia and between real estate companies.
Based on a scenario of a $1,000,000 sales price and a median commission structure of 5% on the first $100,000 and 1.5% of the balance, the commission total would be $5,000 on the first $100,000 and $13,500 on the balance for a full commission of $18,500.
WHAT TASKS DOES A REALTOR DO?
Simply stated, a Realtor is trained to represent your best interests in a real estate transaction. They act as a buffer between you and the other party to negotiate the best deal possible for what is often the largest investment in one's life. While not an exhaustive list, the items below represent some duties of realtors.
Represent your interests during the entire transaction process
Ensure you pay or receive the best possible price
Ensure you are prepared to purchase or sell a home
If selling, ensure you have met any legal obligations to make disclosures
Preparing offers and counter-offers.
Ensure the necessary legal elements are within offers and contracts
Market your home to other realtors/buyers
Help determine the maximum purchase price you can afford
Recommend ways to finance homes
Prepare and process the ownership transfer
Work a notary public to move your funds through escrow/trust
Inspect property titles for red flags (liens, covenants etc)
Knows the general market conditions and can advise you
Weeds out non-serious potential buyers and focuses on solid leads
Works with you to remove offer conditions/subjects
Ensures the complete deal complies with provincial anti-money laundering laws
And much more...
REALTORS CAN PREVENT "EMOTIONAL" SALES
Parting with your home can be an emotional process. Similarly, buying your first home can be very exciting. A licensed real estate agent can help keep your "eagerness" or other emotions hidden from the other parties during the negotiation process. If you are perceived as desperate to sell your house, directly negotiating with potential buyers yourself or even being present during the negotiations might unwittingly reveal such resulting in lower offers. A good realtor will maintain a wall between you and the other party(s) to any real estate contract to ultimately benefit you.
Another emotional mistake is to set a high asking price based on a belief your home is invaluable. It is important to keep in mind that the original asking price is seldom the closing price as offers and counter offers are employed by both parties en route to a transaction. By asking too high of an asking price, you may not get the initial "traction" or build up of excitement that can attract multiple, competing offers. Setting an initial lower price can sometimes attract more buyers who may bid the final price of your home past the highest price you would have picked. If your listing fails to gain initial interest, it remains on the market longer and "days on market" is sometimes viewed as a "signal" to try lower offers. Realtors are experienced in helping keep your emotional decisions in check in order to get you the best deal possible.
A real estate agent will also know how to best negotiate with low-ball offers. These can also be emotionally difficult to deal with and some property sellers might be offended by such offers and refuse to negotiate further. A professional realtor will not give up easily and try to salvage an acceptable deal if it is possible.
REALTOR GOVERNANCE
Licensed real estate agents are professionals and have passed rigorous examinations to satisfy the governing bodies that they have the knowledge necessary to perform their jobs. The Real Estate Council of British Columbia (RECBC) governs the industry in our Province and has a mandate to ensure the public is well served by real estate professionals who operate with proper ethics and are competent at their profession. They are also committed to protect the public interest and ensure professionalism and integrity of the real estate industry.
Every real estate agent operating in British Columbia (Victoria or otherwise) is required to have a valid licence and renew it every two years. Professional competence is achieved through a combination of knowledge, skills, abilities and judgment.
In British Columbia, the regulatory authorities are also generally supplemented by local real estate boards such as the Victoria Real Estate Board (VREB), an association of approximately 1,300 professionals who act as realtors in the greater Victoria and Southern Gulf Island regions. While not a regulatory agency per se, the VREB provides members with the tools and education they need to provide the best possible service to their clients.
REALTOR DISCIPLINARY ACTIONS
Disciplinary actions can be levied at Realtors should they breach their fiduciary duties, professional code of conduct or even the law. When selecting a real estate agent, you will want to quickly check to see if your prospective agent has been the subject of any disciplinary actions by the Real Estate Council of British Columbia. If any realtor is involved with an incident that warrants a professional disciplinary action, the RECBC will generally publish the outcomes at https://www.recbc.ca/public-protection/decisions.
Should a realtor you are considering working with be the subject of such actions, we would urge you to move forward cautiously and wait until you are absolutely comfortable with any prospective realtor prior to making a decision to work with someone.
HOW SHOULD I PICK A REALTOR
"How should I select the best realtor in the Victoria BC market" is a complex question. Here are some generalized considerations.
Type of Property
Some realtors focus on specific types of properties, which may make them best suited to sell your specific properties. Some agents advertise themselves as "condo specialists" while others focus on single family detached dwellings or even investment grade real estate. Others may specialize in acreages or larger luxury homes. When you decide to sell your house, selecting a realtor who specializes in the type of property you are selling might be a factor to consider.
Specific area
Various realtors may have specialized knowledge and a focus on one of the multiple Capital Regional District (CRD) municipalities or even specific neighbourhoods within those municipalities. A realtor who focuses their listing on the rural properties in areas such as North Saanich or Metchosin will know the specific attributes that may make your property more desirable to the average buyer in that area. As an example, having municipal water or even a gas connection in Metchosin may be a marketing feature that buyers in that area consider desirable while a realtor focused on condos in downtown Victoria might lack this specific knowledge. The local knowledge can encompass all sorts of things like proximity to the best schools, public transportation, knowledge of future commercial development or even traffic patterns.
Personality
No matter what type of realtor you decide to work to sell your house into the Victoria area market, being able to get along with your realtor and "click" is one of the most important aspects. The right chemistry between you and your realtor will go a long way towards achieving the best results for both of you. Also remember that your realtor's ultimate success is also contingent upon the deal so it is in their best interests to close a deal that is acceptable to you.
Referrals and Recommendations
Whether seeking to buy or sell a home, finding a realtor that is highly recommended by past clients can be a good indication of future success. For example, someone who is ranked at one of five stars by their last 50 clients is not likely to be a first choice. If you do not know any realtors personally, using a free and fair real estate ranking system can be a good way to narrow the field down.
Ask people in your own social and work circles which realtors they used and if they would work with that person again. If a colleague or friend has worked with the same realtor more than once, this is usually a good sign that they were satisfied.
Agency Awards
Most real estate agencies will honor their top performers on a periodic basis. As examples, Century 21 has a CENTURION® award for their top performers while Coldwell Banker has their International Diamond Society, only provided to the top ten percent of agents on a worldwide basis. While each agency may use different metrics and have varying thresholds, this might be a consideration when selecting a Realtor. If you do use this metric, it may be advisable to double check that the award is from experience in the Victoria market and not elsewhere.
Industry Awards
Some regional real estate associations will honor their top performers on a regular basis. As with the brokerage awards, each association may use different metrics and have varying thresholds for determining awards status.
Independent Real Estate Agent Ranking Websites
Rate-My-Agent.com is a great resource. This site is completely independent (from this site as well) and driven by client reviews. When checking scores, seek high rankings yet also strongly factor in the number of reviews. It is easy to have a 5/5 star ranking if you invite only two or three clients who you know are happy to review your profile as a realtor. Therefore, we recommend selecting rankings that have at least fifty (50) reviews. A score of 4.50 or higher is good, scores of 4.85 or higher are exceptional, especially with over fifty reviews.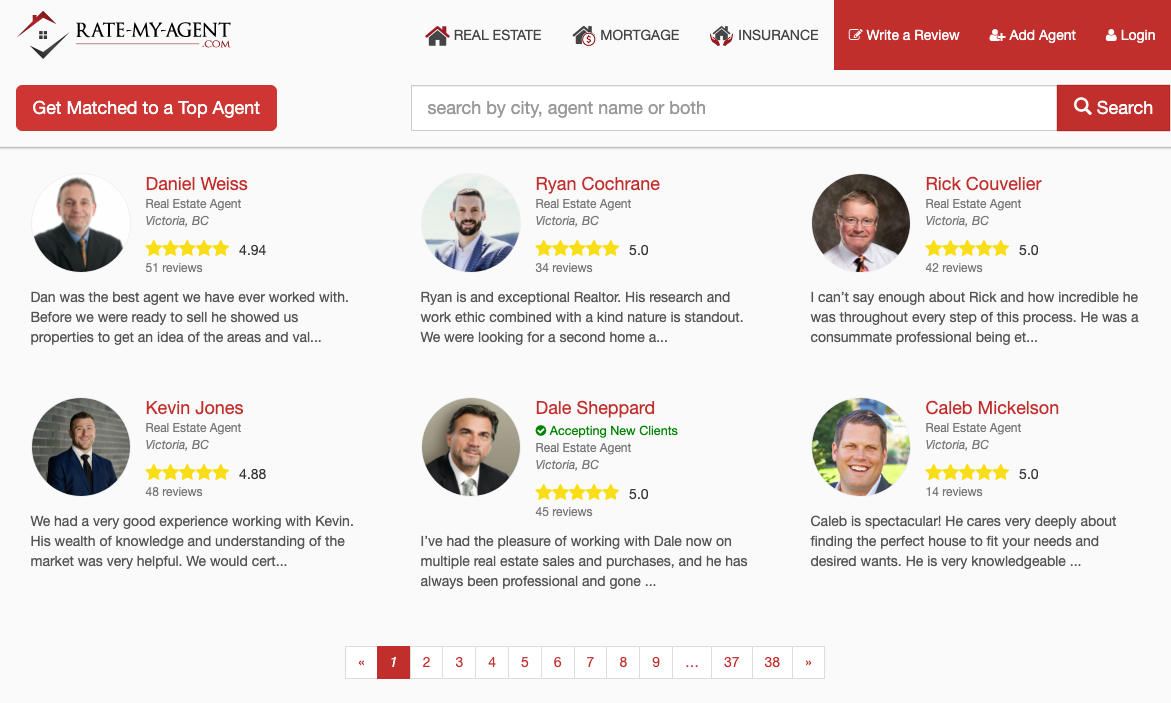 Always consider the source. There are more than one real estate agent ranking websites and some use a free vs. paid business model that may allow realtors to gain extra exposure. Use your best judgement and always do the proper research.
Past Sales Effectiveness
For selling specifically, select a realtor who has a track record of selling in the timeframe you desire. Data is available through the Victoria Real Estate Board to reflect the averages number of days on the market for the type of real estate asset you are considering. Compare that metric to the one your prospective realtor's track record. This can be a general gauge of their effectiveness. Another consideration is the number of current and closed listings they have. The specifics will depend on your own goals and desires, whether buying or selling. If you are selling one home to buy another, the ability to sell your home within a specific time frame may be the most critical consideration when picking a real estate agent.
CLOSING/QUESTIONS
In closing, there are many dimensions and selection criteria that are often highly specialized based upon your unique situation. The aim of this website is to provide general education and help individuals along the road to a solution. If you have any questions or feel there are additional criteria to be considered, please use the contact page in the menu to reach us. Some content on this website is community sourced and we are open to improvements.